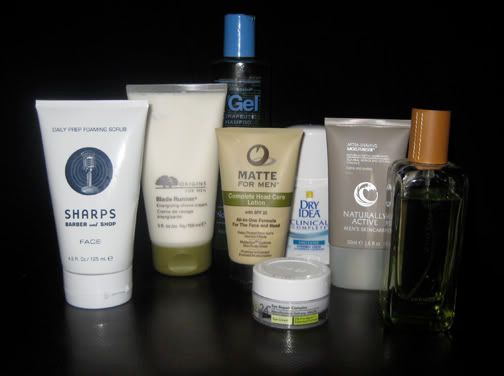 My slightly high-maintenance morning included:
Neutrogena T/Gel Shampoo
Recommended for those with buzzed or little hair – it's very good for the scalp.
Sharps Daily Prep Foaming Facial Scrub

Like a double shot at Starbucks. Woke it up and made it glow.
Origins Blade Runner Energizing Shave Cream
Brushless. I used it with my Merkur DE razor
Liz Earle Naturally Active After Shave Moisturizer
Applied to beard area. Ultra soothing.
Matte For Men Complete Head Care Lotion
Top of my head and every place I didn't get with Liz Earle.
NIA 24 Eye Repair Complex
Love this stuff and will write more about it soon. Big fan of this one.
Dry Idea Clinical Complete Antiperspirant
It works.
Hermes - Hermessence Vetiver Tonka
2 sprays on my chest.
Dressed and out the door!