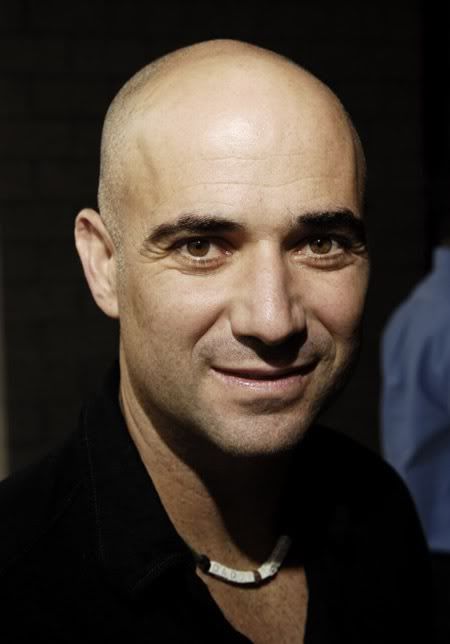 CBS 60 Minutes aired an impressive and heartfelt interview with Andre Agassi last night where he came across as being very articulate and sincere. Someone who had faced demons in his life, took a soul searching journey, perhaps some therapy, then rose above to become a good husband, father and in this stage of his life, a very generous philanthropist. There were some surprising revelations like his dislike of tennis and an introduction to his year-long doubles partner, Crystal Methamphetamine. We also got to see his lighter side as he joked about wearing that very 80's hairpiece while playing the French Open. It was a good interview and his honesty was charming.
I thought Andre looked great and I like the way he has matured. During the close-ups, it was clear that he was not wearing makeup, which gave the interview a layer of rawness. But throughout the interview,
I couldn't help noticing that Agassi had what appeared to be some serious razor burn.
It got me thinking that as easy as razor burn is to avoid, this can happen to anyone.
So here's my two cents on avoiding razor burn.
Get your beard wet and softened with plenty of warm water. After showering is best. Use a sharp, fresh razor — whether you're using a double-edge or multi-blade, make sure it's not dull. This is very important. Use a shaving cream that gives you excellent razor glide like Billy Jealousy Whipped Cream. I've used this cream with my Merkur HD double edge razor (traditional shave, with brush) and my multi blade razor (brushless) and got a nick-free shave (without razor burn) each time. This super-slick cream softens and lifts the beard the same way that the original Esquire Grooming Award-winning Billy Jealousy Hydroplane does. Also, with Billy Jealousy Whipped Cream, there is no need for pre-shave oil. It's that slick. Whipped Cream's key ingredients which help to glide, hydrate and reduce redness are Glycerin, Licorice Root Extract, Wheat Germ Extract and Lavender Oil. It also rocks a nice clean masculine scent. It's a good one, I recommend it and I think Andre would like it.

Finish up with an after-shave moisturizer and you're good to go.