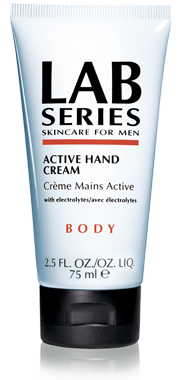 Winter is just around the corner and while some guys might be thinking about football, snow tires and maybe a new sweater — all I can think about is
how dry my skin gets
. My legs, arms and especially my hands become D-R-Y as a bone. Anyhoodle, as a former boy scout, I have a mantra that goes something like this —"
Be prepared
." So last week I took my humidifier out of storage and stocked up on my favorite hand cream —
LAB SERIES Active Hand Cream
. The cream is
lightweight, rich and non-greasy
. It soaks into the skin quickly and leaves your hands feeling healthy and soothed. It also rocks a nice, pleasant neutral-clean scent that doesn't enter the room before you do. I really like this stuff.
This winter, be a good scout and
take good care of your mitts
. A tube of it sits on my desk.