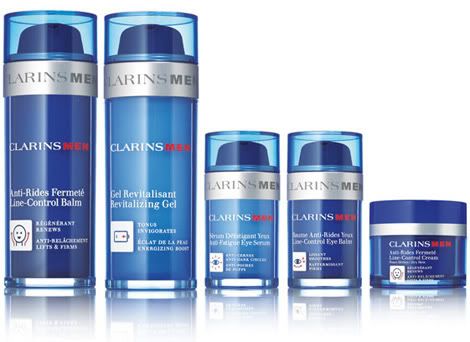 A new favorite of mine is a moisturizing/anti-aging system from the French skin care line
ClarinsMen
. This year ClarinsMen expanded it's product line by introducing
ClarinsMen Age Control
—
these hard working products are the real deal
, taking men's skin care to a whole new level. The ClarinsMen Age Control line is for a guy who appreciates the results of good skin care while enjoying a simple and easy maintenance regimen. I've been using the face cream and eye balm for a few weeks now and I'm already noticing an increased firmness and smoother texture to my skin. Love it. The scent is neutral, clean, fresh and unobtrusive so it works well with any cologne or fragrance.
Why use this?
As we get older, the first signs of aging tend to appear around the eyes, usually dark circles and crow's feet, followed by a loss of firmness around the chin and neck. You might even notice your collar size increasing. Because a man's skin is thicker and oilier than a woman's skin, it is also more susceptible to deeper set wrinkles.
ClarinsMen Line Control Cream
is formulated to minimize the appearance of deep lines and wrinkles while firming and moisturizing skin.
ClarinsMen Line Control Eye Balm
is made to smooth lines and crow's feet while reducing the appearance of dark circles and under-eye puffiness caused from aging. Both products are designed to firm up the skin, fade the furrows between the brows and reduce the formation of a double chin and heavy jaw line. Both are applied in the morning and at night.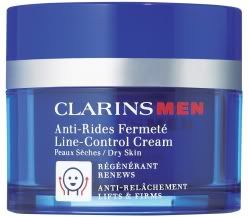 ClarinsMen Line Control Cream
$52 for 1.7 oz.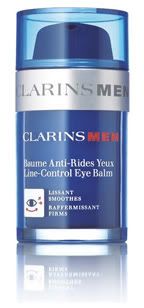 ClarinsMen Line Control Eye Balm
$35 for .7 oz.
ClarinsMen Line Control Eye Balm and Line Control Cream are available at department stores and specialty stores.