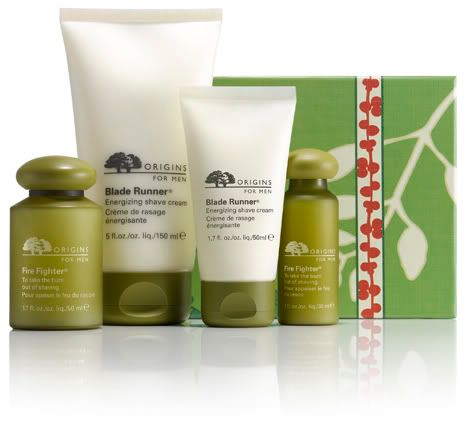 Something tells me Tiger Woods will be getting coal in his stocking this year… if only he were able to keep his pants on and his zipper zipped, he might have received this lovely set of full and travel sized essentials from
Origins
…perfect for the man on the go! The gift set is called
Man's Best Friends
.
Get the mistletoe ready without the risk of whisker burn by starting with a good shave.
Blade Runner Energizing Shave Cream
carries slick emollients like Kukui Nut Oil, Soybean Oil and other plant-based protectors to help glide the razor and give a close friction-free shave. Follow it up with
Fire Fighter
— nature's moisturizing rescue unit of soothing Chamomile, Cucumber and Winterbloom leave skin calm and kissable. And that's the goal of good skin care, right? Make it
kissable
.
This is a wonderful gift for any guy who is into a good shave. I saw the gift set at the
Origins
store on 5th Avenue in NYC. It comes beautifully packaged and boxed for the holidays.